Webinar on DEQAR hosted by EUA & ENQA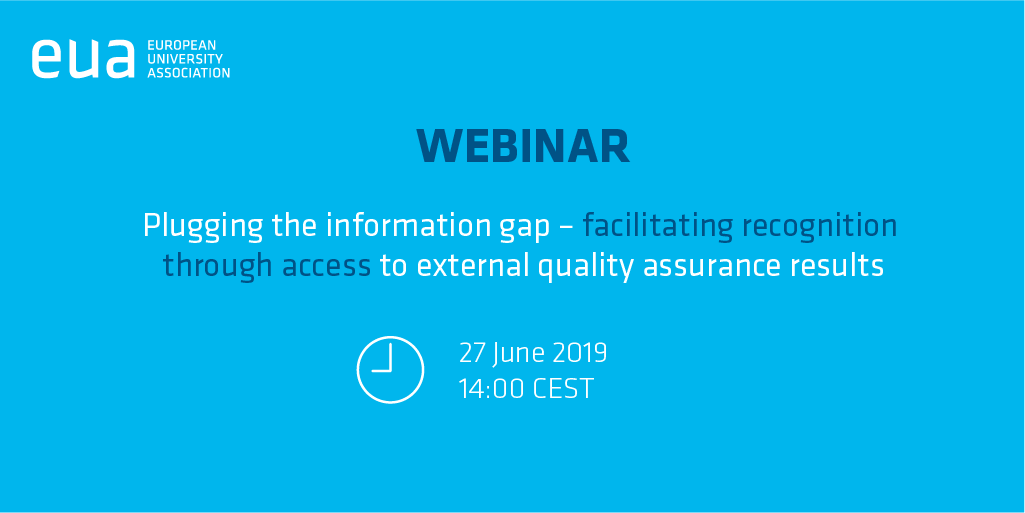 Webinar on DEQAR hosted by EUA & ENQA
Plugging the information gap – facilitating recognition through access to external quality assurance results
The European University Association (EUA) and the European Association for Quality Assurance in Higher Education (ENQA), project partners in the DEQAR project, are hosting a webinar dedicated to using DEQAR (Database of Database of External Quality Assurance Results).
Participants of the webinar will gain an insight into the rationale and uses of DEQAR, and hear from representatives of a national recognition information centre (ENIC-NARIC) and a higher education institution about how the availability and transparency of information about external quality assurance can facilitate their daily work with regards to recognition processes.
Participants will have the possibility to join the discussion and ask questions during the webinar. The webinar will be of interest to a range of stakeholders, including institutional staff involved in quality assurance, recognition and mobility; staff of quality assurance agencies and ENIC-NARICS; and students.
When: Thursday 27 June 2019, 14.00-15.00 CEST
For whom: registration is free and open to all interested stakeholders
How to: register here
We welcome you to view a recording of the webinar below: