ENIC-NARIC integration
DEQAR is a useful tool for national recognition information centres (ENIC-NARICs). Many centres already make use of DEQAR data for the recognition of foreign qualifications from those higher education institutions/programmes present in DEQAR.
The idea of ENIC-NARIC integration was conceived with the intent to further speed up and facilitate this process, and to assist ENIC-NARIC project partners to use the Web API to integrate DEQAR in their recognition workflow and digital credentialing.
The initiative is a result of EQAR's long-standing cooperation and exchange with the ENIC-NARIC Networks. Four ENIC-NARICs agreed to develop and implement this and thus became project partners in the DEQAR CONNECT project. Several on-line meetings were held to discuss the best ways to achieve this, keeping in mind that the four centers each have their own (IT) systems, digital platforms, workflow and national requirements, meaning that there is no "one fits all solution".
1. CIMEA – Centro di Informazione sulla Mobilità e le Equivalenze (Italy)
When the credential evaluator fills in the certification comparability on DiploMe, the awarding institution from the country selected can be validated via DEQAR by clicking on the drop-down menu (framed in red in the image below):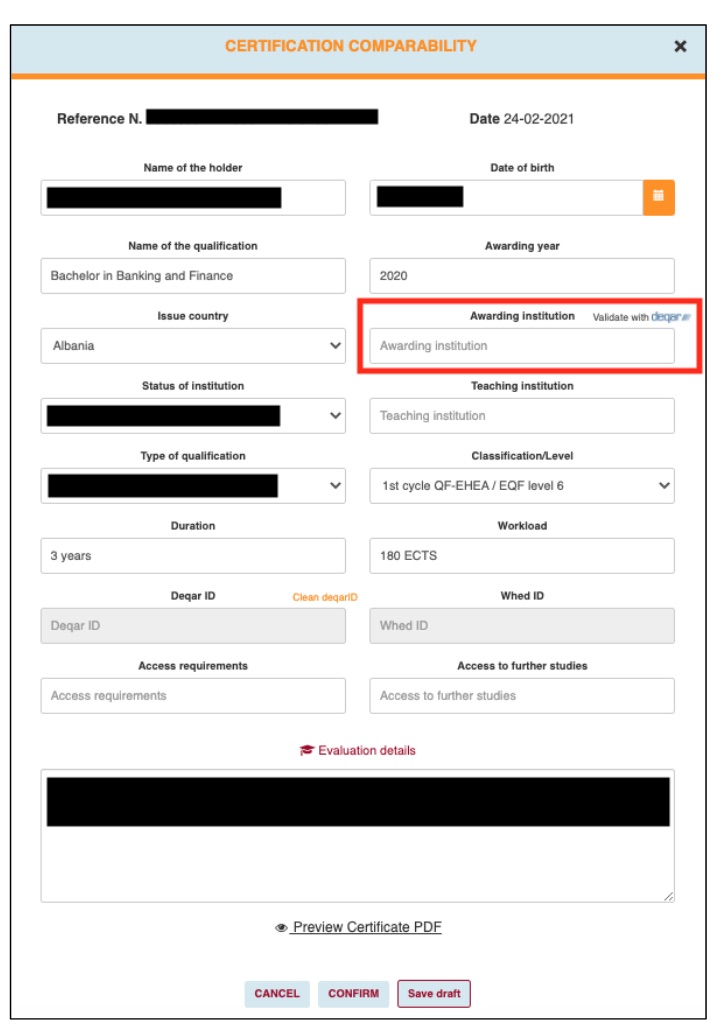 Click here to view CIMEA's step-by-step illustration of DEQAR integration in DiploMe
2. France Éducation International (Formerly CIEP – Centre international d'études pédagogiques)
FEI's system enables evaluators to search institutions in DEQAR from their internal database. Evaluators will use the DEQAR search bar to type the name of the institution and locate the HEI of their interest.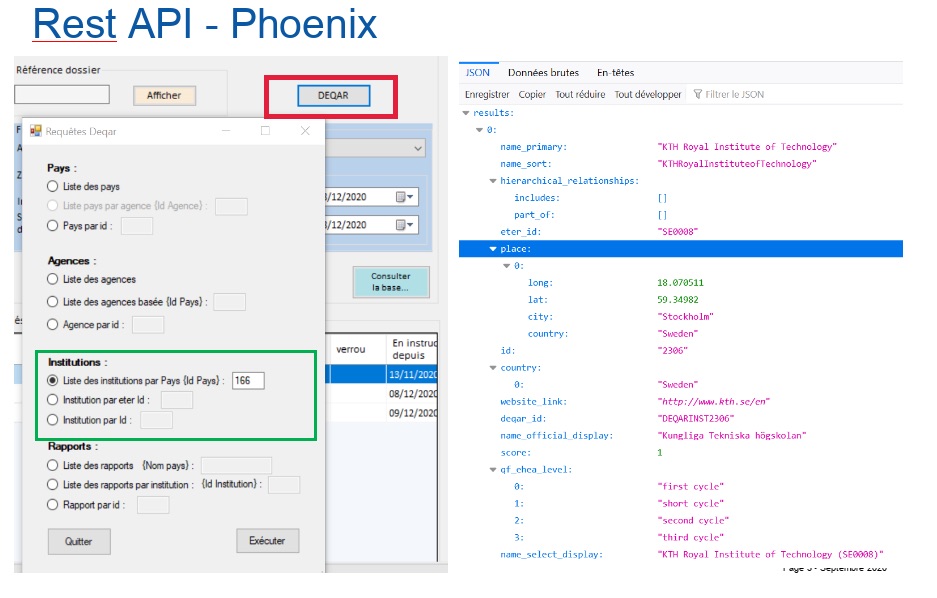 France Éducation International's integration of the DEQAR API
3. CNRED – National Center for Recognition and Equivalence of Diplomas (Romania)
CNRED integrated DEQAR data in its internal wiki platform that is used by credential evaluators. The data is presented in a way to fit in with the current existing workflows of CNRED credential evaluators. At the moment, CNRED is still working on a live connection using the Web API, planned for the end of 2021. The temporary internal wiki platform looks like this: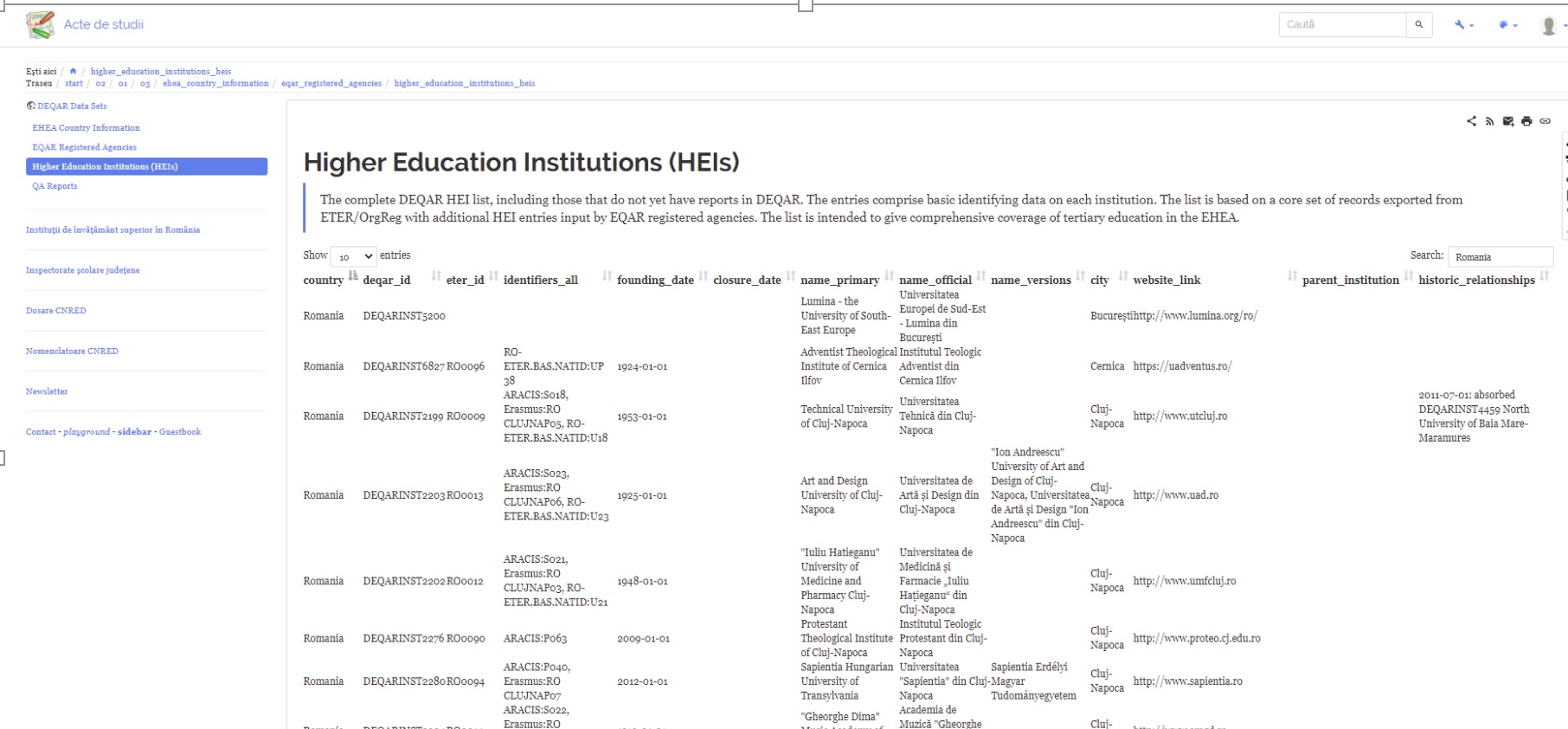 CNRED's current DEQAR integration in their wiki platform (to be succeeded by a live API connection)
4. Nuffic
Nuffic is currently undergoing a major restructuring of their system/platform. They are planning a direct DEQAR integration in their new upcoming system. They have included this in their digital roadmap for late summer.
All of these are first versions of the DEQAR integration.  In the upcoming period, the four centers will work on furthering the usage and presentation of DEQAR data in their systems.
---
ENIC NARIC integration meetings
18 May 2020 – ENIC NARIC webinar
After an introduction by EQAR on the structure, back-end and workflow of the database (see presentation), each partner gave an overview of their own digital platform/system and on their ideas where the DEQAR API would be best put to use and how. More about the webinar.
18 December 2020 – online meeting
The main topics of the meeting were the progress made by ENIC NARICs, encountered obstacles and the way forward.
12 February 2021 – online meeting
Exchange on the state of play; ENIC NARICs showcasing their progress with screenshots visualising their DEQAR integration ideas/options.