About
DEQAR: Quality at your fingertips!
The Database of External Quality Assurance Results (DEQAR) project was selected for EU co-funding under Erasmus+ Key Action 3 – European Forward-Looking Cooperation Projects. The main aim of the DEQAR project was the development of a database that would enhance access to reports and decisions on higher education institutions/programmes externally reviewed against the ESG, by an EQAR-registered agency.
The database is expected to enable a broad range of users to satisfy their information needs and support different types of decisions (e.g. recognition of degrees, mobility of students, portability of grants/loans). These users include but are not limited to:
Recognition information centres (ENIC-NARICs)
Recognition and admission officers in higher education institutions
Students and student organisation representatives
Quality assurance agencies
Ministry representatives and other national authorities
DEQAR builds on several Commission funded projects:
DEQAR was conceived in the context of the EHEA goal of automatic recognition. Amongst others, it was inspired by Qrossroads, a frontrunner in publishing quality assurance reports developed by the European Consortium for Accreditation (ECA).
An important contributor to the database is ETER (the European Tertiary Education Register) and the related OrgReg (a Register of Public-Sector Organizations). DEQAR harvests records from ETER/OrgReg on an annual basis. These records serve as base set of records on European higher education institutions in DEQAR. The following ETER data on institutions are stored in the database: ETER ID, official name, English name, acronym, country, city (when available), latitude/longitude (when available), QF-EHEA levels and institution website.
Through this database EQAR will contribute to the transparency of external quality assurance in the European Higher Education Area (EHEA).

Disclaimer Erasmus + programme
The European Commission support for the production of any DEQAR publications does not constitute an endorsement of the contents which reflects the views only of the authors, and the Commission cannot be held responsi­ble for any use which may be made of the information contained therein.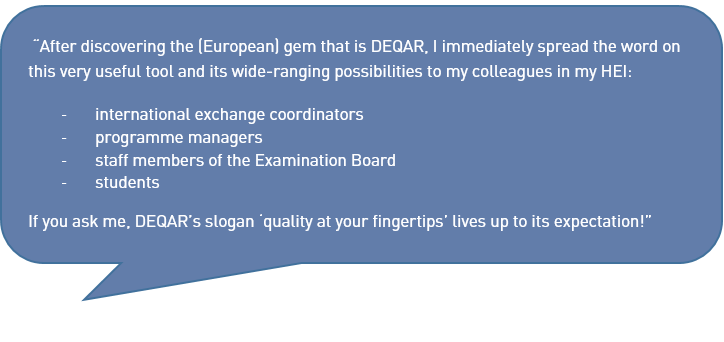 Eltjo Bazen, QA advisor at the University of Applied Sciences Utrecht