Annual Reports
EQAR's annual reports contain an overview of the organisation's activities, a comprehensive report on the management of the Register and cross-cutting observations based on the Register Committee's decisions. Since 2014, the annual reports also contain a statistical analysis of the registered agencies' external QA activities.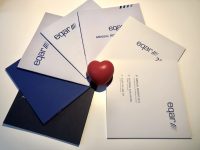 Small step towards substainability
EQAR stopped printing the annual report in 2018 and is moving more and more to a paperless office.
Read more
Annual reports have since been integrated on the website, as a means to try and improve the reader experience. Browse, explore and scrutinise the sections of your interest, with direct links to related content on other parts of the EQAR website.
@nostalgia: we still keep a few of our old annual reports in the office. Feel free to contact us if you would like to receive a hard copy.