Bologna Process & EHEA
Since 1999, European governments have been working closely together to allow Europe's diverse education systems to articulate better with each other and thus to establish a European Higher Education Area (EHEA).
Every two or three years a Ministerial Conference is organised in order to assess the progress made within the EHEA and to decide on the new steps to be taken. Ministers decide at Ministerial Conferences about the central aspects of the EHEA, including its further developments and commitments by its member countries. A communiqué is adopted at each Ministerial Conference that outlines decisions taken by the Ministers.
The Bologna Follow-Up Group – BFUG – is the executive structure supporting the Bologna Process in-between the Ministerial Conferences. EQAR is a non-voting member of the Bologna Follow-Up Group.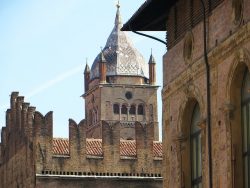 The Bologna Process – named after the city of Bologna, where in 1999, 29 countries signed a declaration marking the beginning of this reform process. Click here to go to the EHEA website and find out more about the Bologna Process and the BFUG.
Thematic Peer Group on Quality Assurance - established in 2018
In September 2018, the BFUG formally established the Thematic Peer Group on Quality Assurance – more specifically on Key Commitment 3 (Quality Assurance in compliance with the Standards and Guidelines for Quality Assurance in the European Higher Education Area) – based on the interests and needs indicated by the BFUG members and Consultative members. Specific thematic indications include topics such as:
legislative framework in line with the ESG (introducing changes),
ensuring effectiveness of internal quality assurance arrangements, including the use of QA results in the decision-making process and quality culture as well as links to learning and teaching,
the role and engagement of stakeholders in internal and external QA (students, teachers, employers),
Cross-border QA,
European Approach to the QA of joint programmes.
The Staff Mobility project was a 2-year project (co-funded by Erasmus+ KA3 Support to Policy reform) related to the work of this Peer Group. The project was led by the Ministry of Education and Training of Belgium/Flemish Community in collaboration with The National Center for Educational Quality Enhancement in Georgia and the Ministry of Education and Culture in Cyprus. EQAR's Melinda Szabo was one of the external experts.
EHEA Ministerial Conferences: