Foreword
Where to start and what to say about this year that none of us will ever forget? Let's skip the obvious for now and focus instead on what EQAR accomplished in 2020. The year started with a bang when the DEQAR CONNECT project was approved for EU co-funding and kicked off in March. Three Register Committee meetings were held over the course of the year, resulting in nine renewals of registration. EQAR's external evaluation commenced, two new staff members were hired and brought up to speed and many, many project meetings took place allowing DEQAR to expand and connect. All in all, we could say that it was "just" another busy, fruitful and rewarding year.
Except that all of this was done online. The technological progress that allowed the world to keep on turning, albeit with hardships and adversity, also allowed us to continue our work. For those of us who still remember the world without personal computers, internet and mobile phones, this is truly remarkable!
Looking back on 2020, we should focus on the "good" instead of on the "bad" and the "ugly", of which there was plenty. What has this pandemic taught us, apart from important general life lessons as appreciating what we have, reaching out to others and finding inspiration in small or new things?
We have seen beautiful examples of resilient and resourceful students helping others, be it with shopping and cooking (for people in quarantine), driving home exhausted medical staff, making telephone calls to lonely people, volunteering at food banks, test- and vaccination centres and reaching out to the most vulnerable people in society in general.
We have seen the enormous effort of teachers and staff in universities developing online education and doing their utmost to keep the business of education and research running. We have seen our colleagues in quality assurance agencies swiftly and convincingly adapting to the new realities of online working and evaluating.
Universities now have a vast amount of data and best practice examples on remote learning and teaching. Quality assurance agencies are finding out the best balance between what can be done on-line, what can be done blended and what can be done on site.
All this could give an impulse to the higher education landscape, a dynamic sector already before the pandemic. Trust and confidence in higher education is as important as ever. Let us use our experiences wisely and learn from the challenges and opportunities that this past year has given us.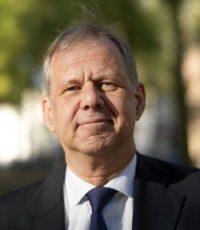 Karl Dittrich (President)