Organisational Development
Organisational Development
Membership
Statutory bodies
At the General Assembly in Bucharest on 3 April 2019, held in the Rectorate of Polytechnic University of Bucharest, hosted by the Romanian Ministry of National Education in the framework of the Romanian Presidency of the Council of the EU, several elections took place:
Register Committee
The General Assembly approved the nominations to the Register Committee for a two-year mandate, starting on 1 July 2019. Three new members were nominated (and all other Register Committee members were re-nominated):
Eltjo Bazen (nominated by EURASHE )
Patricia Georgieva (nominated by EURASHE )
Jacques Lanares (nominated by EUA)
Appeals Committee
The General Assembly elected a new Chair and Deputy Chair. The remaining members and deputy-member of the Appeals Committee were re-elected.
Paul Zoontjes (Chair)
Jiri Nantl (Deputy Chair)
Executive Board
According to the agreed annual rotation, the Executive Board assumed the following functions as per 1 May 2019, with Karl Dittrich as President:
Maria Kelo (ENQA) – Vice-President
Gohar Hovhannisyan – (ESU) – Treasurer (by-elected as per 3 April 2019)
Michal Karpisek (EURASHE) – Member
Tia Loukkola (EUA) – Member
See under Annexes "EQAR data" the full composition of the various EQAR bodies in 2019.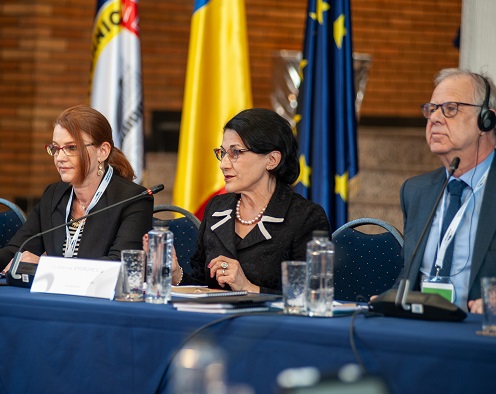 General Assembly in Bucharest, hosted by the Romanian Ministry of National Education
Staff
EQAR had some staff changes in 2019, not only because of the DEQAR project, but also because of the increased workload with regard to the Register Committee. A new Policy and Project Officer was hired, Jelena Šantić Stefanoska, to support the general operation of the EQAR secretariat, the DEQAR project and the Register Committee by analysing applications and reports, as well as review and update information and guidance for applicant agencies.
The total Secretariat staff at the end of 2019 was 4,2 FTE.
Finances
The financial year 2019 resulted in a small deficit of EUR 2 087,38, recovered from accumulated surpluses.
EQAR relies on a diverse funding base including annual contributions from its members (governments and European stakeholder organisations), application and listing fees paid by quality assurance agencies and occasional project grants. In 2019, EQAR received a grant under the Erasmus+ programme as coordinator of the DEQAR (Database of External Quality Assurance Reports) project.
Balance Sheet
Assets
Liabilities and Equity
Fixed assets
5 093,93
Own funds
164 059,26
Immaterial assets
1 012,50
Profit/loss previous years
46 146,64
Office equipment
3 933,77
Result per 31/12/2019
-2 087,38
Guarantees
147,66
Reserves
120 000,00
Liquid assets
300 435,99
Liabilities
141 470,67
Receivables up to 1 year
110 736,37
Payables up to 1 year
128 198,67
Cash and term accounts
182 458,73
thereof: pre-financing EU grants
47 257,07
Adjustment accounts
7 240,89
Adjustment accounts
13 272,00
Total
305 529,92
Total
305 529,92
Profit and Loss Account
Income
Expenditure
Operational income
488 603,19
Operational expenditure
490 616,46
Membership fees
344 356,00
Meetings
69 366,58
Agency fees
64 242,00
Project direct costs
54 694,60
Project income
74 613,68
Office and administration
58 225,76
Other income
5 391,51
Staff
258 438,50
Other costs
49 891,02
Operational result
-2 013,27
Financial income
21,80
Financial costs and taxes
95,91
Total result
-2 087,38
Withdrawal from reserves
0,00
Allocation to reserves
0,00
Result to be reported
-2 087,38