Updates to policies and guidance for QA agencies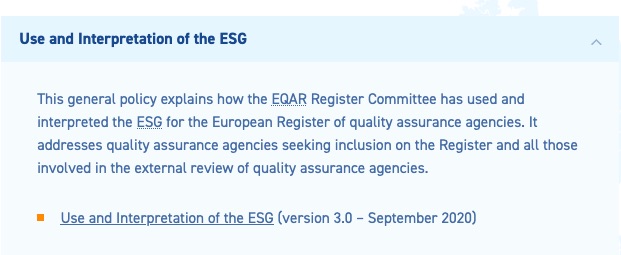 Updates to policies and guidance for QA agencies
Following the consultation launched last year on the Policy on the Use and Interpretation of the ESG, the revised version of the document has now been published. The Register Committee took in comments and suggestions that were provided by reviewed agencies, review panel members, review coordinators and also by the EQAR General Assembly.
The policy on the Use and Interpretation of the ESG assists applicant QA agencies, review panels and the Register Committee itself when interpreting the standards. They support a common understanding, but do not claim to be exhaustive or exclusive.
The new version takes into account the new practices and approaches in external quality assurance, as a response to the COVID-19 pandemic and also the recent developments in higher education, underlining the broad applicability of the ESG at higher education levels outside of the traditional standalone degree programmes (e.g. micro-credentials, alternative credentials, continuing education, etc.).
In addition, EQAR just launched a new version of its Guide for Agencies (previously "Guide for Applicant and Registered Agencies"). The Guide has been changed into a web-based document, allowing easy navigation through its chapters. The Guide is an explanatory document summarising the provisions of EQAR's Procedures. It provides agencies with all key information on the registration, reporting and renewal processes in one place.
Use and Interpretation of the ESG

Guide for Agencies