First DEQAR pilot study published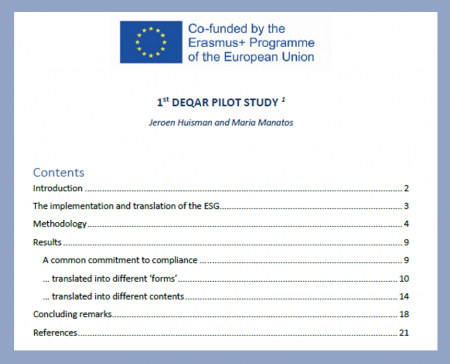 First DEQAR pilot study published
Our DEQAR research partner, the University of Ghent – the Centre for Higher Education Governance Ghent (CHEGG) has just published the first study using DEQAR to analyse how QA agencies translate the ESG, and specifically standards 1.2 and 1.9, in different national contexts.  A second study is in the pipeline and should be out by June 2019.
The researchers have provided a comprehensive analysis on how quality assurance agencies translate the ESG for external quality assurance, for two specific standards related to programmes' design, approval and monitoring (ESG 1.2) and on-going monitoring and periodic reviews of programmes (ESG 1.9). The analysis covered the institutional external quality assurance reports from Croatia, Estonia, Finland and Portugal.
The results show that the influence of the ESG in the institutional external quality assurance reports of agencies is unquestionable, however the degree of implementation and translation differs depending on the focus and the models of institutional external quality assurance. The interpretation of the ESG appears to be nationally 'coloured', the most 'ad literam' translation can be seen in Croatia and Estonia, while in Portugal there are some items strongly linked to the national higher education policy (such as national and international collaboration policies). A more open interpretation is visible in Finland.
The study also points out that one could not find significant differences, particular patterns or trends between types of institutions in the implementation of the ESG (private vs public, colleges vs universities, polytechnics or universities of applied sciences vs universities, foundations vs non foundations).
We thoroughly recommend that you read the whole study, which can be downloaded here.