Call for Tender: Coordination of the External Evaluation of EQAR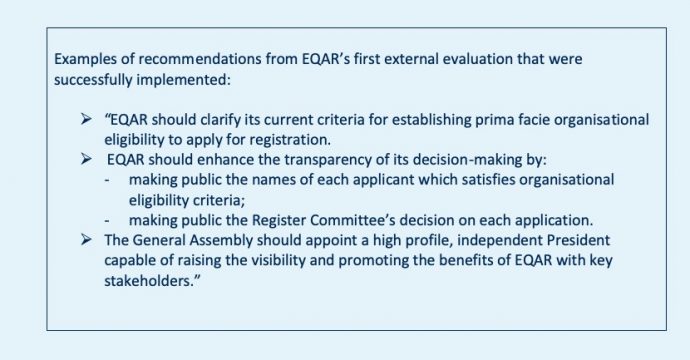 Call for Tender: Coordination of the External Evaluation of EQAR
Deadline extended: 22 November 2020, 23:59 CET
We are looking for suitable organisations or experts to serve as coordinator of what will be EQAR's second external evaluation.
EQAR's first external evaluation took place in 2010/2011 and was coordinated by a Steering Group working under the auspices of the US Council for Higher Education Accreditation (CHEA). In 2015/2016, EQAR carried out a comprehensive self-evaluation. The reports of these evaluations can be found here.
The main tasks and requirements as written in our Call for Tender can be summarised as follows.
Tasks
Agree with EQAR on the Terms of Reference
Recruit, appoint, brief and support the panel of experts
Ensure the quality and timely delivery of the review report
Requirements
Expertise in quality assurance of higher education, the policy thereof and in the workings of the Bologna Process
At least 5 years of experience in similar evaluations in the field of higher education
European or EHEA experience
Appropriate standing and reputation and without conflict of interest
Download the full Call for Tender, including more detailed information about the background, the scope, key features, panel requirements, the evidence base and budget.
Tender deadline
We are looking forward to receiving your tender via email to tender@eqar.eu by 22 November 2020 at the latest.