Analysis of Register Committee Decisions and Quality Assurance Agencies' Compliance with the ESG
The EQAR Register Committee started its work in 2008. Over the past ten years the Committee has considered over 106 applications for inclusion and renewal of registration, of which 69 applications of initial inclusion and 37 applications for renewal of registration (see table below). Almost a third of the total number of applications followed after the adoption of ESG 2015.
For each of the applications considered after 2015 the Register Committee makes a judgment on the compliance level (compliance, partial compliance or no compliance) with each of the standards of ESG Parts 2 and Part 3 before making a holistic judgement (of substantially compliant or not substantially compliant -> see criteria for inclusion).  In the 24 applications considered the Committee reached the conclusion of compliance in 78% of cases (see chart below). For all other cases the Committee concluded on partial compliance (21%). A non-compliance judgement was not reached for any of the standards considered.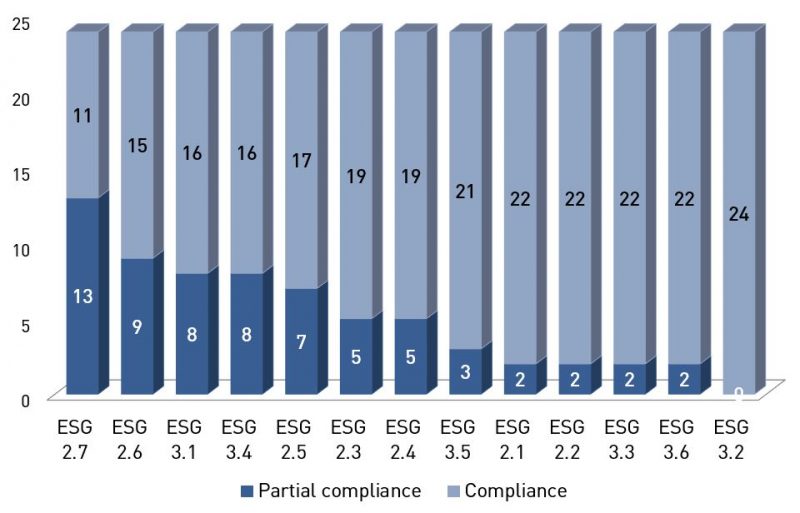 Register Committee conclusion on compliance and partial compliance.
A closer look at the individual standards revealed that agencies were found to be most often only partially complying with standard 2.7 Complaints and appeals (11 of the 24 agencies). Other areas where the Register Committee found significant shortcomings and concluded for at least seven of the 24 agencies that they are only partially compliant were the standards (see chart below, ordered by the no. of PC), 2.6 Reporting, 3.1 Activities, policy and processes for quality assurance. 3.4 Thematic analysis and 2.5 Criteria for outcomes.
A full analysis (of August 2018) reflecting on the changes since the adoption of the ESG 2015 can be consulted below. The study also documents changes within the registered agency's activities, organisational structure, their mergers and complaints.