Talk of the town
DEQAR is getting more and more exposure on different plaforms and in various ways. Hereunder a selection of DEQAR in the limelight – with links to the full articles as well as short extracts – among which testimonials, newspaper & newsletter articles, interviews, a television news-item and a review of DEQAR by a well-known QA expert.
Testimonials
Thomas Blanc de la Carrere, Quality Advisor Internationalisation at Rotterdam University of Applied Sciences:
"Searching for accreditation decisions in disparate sources from multiple foreign countries can be daunting. This is why DEQAR is increasingly becoming a one-stop shop for the accreditation related section in the partner screening workflow at Rotterdam University of Applied Sciences. All information in DEQAR is presented in the same readable and consistent manner independently from the country of origin. This saves us a lot of time and effort. We can only encourage more quality assurance agencies to join the database. This is a clear win-win for all stakeholders. Thank you very much DEQAR team and keep up the good work!
Maru Diaz, the regional Minister for Higher Education in Aragon (Spain):
DEQAR is like "a trip advisor where, with one click, students, professors and researchers can find everything they look for in order to make well-informed decisions."
"With DEQAR we move forward on the objectives of transparency, mobility and internationalisation. Transparency, because all data are now available and easily accessible to the public via internet. Mobility, because students who wish to go for an Erasmus can now consult on internet the assessments on the different universities that they can choose from. This also works the other way: there might be European students that decide to come and study here when they discover that we have studies of quality in Aragón. Lastly it means a leap forward towards internationalisation, since researchers and scholars who look for partners or associates to undertake joined projects can, using the findings in the reports, get to know more thoroughly and choose through better criteria with whom they want to collaborate. "
Damian Michalik, student expert from the ESU QA pool:
'Since I have used the Database of External Quality Assurance Results (DEQAR) for the first time, I come back to it more and more frequently.  It is a useful and trusted tool which helps to find all relevant information regarding quality assurance in the European Higher Education Area (EHEA). Without the register, my work would be tedious, time-consuming and not giving so much satisfaction.'
Lucien Bollaert, QA expert:
"The DEQAR database is a most interesting European project being developed by EQAR and a number of European partners and agencies and is useful for ERIC-NARICs, HEIs, students and national authorities primarily for recognition and mobility (networks). The fact that all this information can easily be consulted in a user-friendly way and at one place is a real asset. We can only hope that more information will be collected and will be accessible in the future".
Tomislav Tomljenović of the Agency for Science and Higher Education (ASHE):
"The work on the DEQAR project is a valuable and useful experience for our agency, especially because we believe that it is our duty to improve transparency in the quality assurance procedures in higher education in the EHEA, which is the purpose of the DEQAR database. We believe that the database will continue to expand even more in the future, providing easier access to accreditation reports and decisions to a wide range of users."
Eltjo Bazen, QA advisor at the University of Applied Sciences Utrecht and RC member:
"After discovering the (European) gem that is DEQAR, I immediately spread the word on this very useful tool and its wide-ranging possibilities to my colleagues in my HEI:
international exchange coordinators
programme managers
staff members of the Examination Board
students
If you ask me, DEQAR's slogan 'quality at your fingertips' lives up to its expectation!"
Newsportal Darmstadt University
"International transparent und sichtbar"
Short newsitem (in German) about DEQAR and how Darmstadt University features in the database.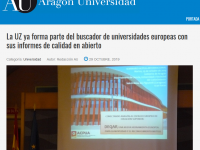 Article in Aragón Universidad
"La UZ (University of Zaragoza) ya forma parte del buscador de universidades europeas con sus informes de calidad en abierto" - November 2019
Aragón Universidad is a regional online and paper magazine for higher education, widely distributed among institutions and stakeholders.
Extract from the article (translated from Spanish into English):
ACPUA participates and has, together with other agencies, uploaded data in this tool which allows you to find the external quality assurance results (e.g. evaluation and accreditation reports and decisions) of more than 2000 universities worldwide. DEQAR consists of search functions per country, per city and per institution and thus enables each and every citizen to easily and quickly have information at their disposal about a study programme or university.
Maru Diaz, the regional Minister for Higher Education in Aragon defined DEQAR as "a trip advisor where, with one click, students, professors and researchers can find everything they look for in order to make well-informed decisions."
Link to the full article (in Spanish)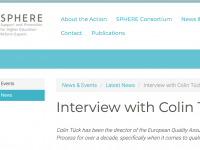 Interview in SPHERE with Colin Tück
"The DEQAR Database" - June 2019
Extract from interview:
CT: EQAR used to provide a list of trustworthy agencies, with basic information on their work. But understandably, most people are interested in the quality of a higher education institution or study programme, rather than information on an agency as such.
But to read actual reports and decisions on higher education institutions or programmes you had to visit the agencies' own websites. This is not an easy task with 46 agencies: you had to find out which agency might have reported on the institution or programme you are interested in (in many countries several agencies carry out evaluation or accreditation) and then had to navigate differently structured websites in different languages. In a survey we did, a clear majority of respondents told us that they found reports only "somewhat accessible".
Especially now that European ministers have set out to realise automatic recognition of qualifications, different users – and not only experts – will need a simple way to see that a higher education institution or programme was quality assured in line with the ESG. 
With DEQAR we try to create one pan-European database of quality assurance reports and decisions to make them more easily accessible and understandable. Our aim is to create a one-stop shop for all external quality assurance in line with the ESG, carried out by the EQAR-registered agencies.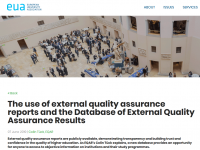 Article in EUA "expert voices" by Colin Tück
"The use of external quality assurance reports and the Database of External Quality Assurance Results"  - June 2019
Extract from article:
"One key use of quality assurance reports is in the recognition of qualifications or periods of study. Recognition officers, in national information centres (ENIC-NARICs) and higher education institutions, need a quick and clear way to find out if an institution underwent external quality assurance in line with the ESG. Especially if quality assurance intends to catalyse the automatic recognition of qualifications, more organisations and individuals will need a way to easily establish this themselves, without a lengthy search or process. There are plenty of other situations in which external quality assurance results are consulted."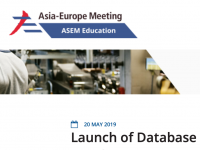 Article in ASEM Education
"Launch of Database of External Quality Assurance Results (DEQAR)" - May 2019
Extract from article"
"DEQAR already includes 9 737 on 1 624 higher education institutions from 56 countries. For 12 EHEA countries, DEQAR covers all or most higher education institutions. Country profiles for each EHEA country are embedded to contextualise the information on QA reports. It is expected that DEQAR will grow to 20 000 reports by the end of 2019. 
In addition to many European partners, DEQAR also includes reports on higher education institutions from 4Asian partners in the ASEM Education Process: a couple of universities in Australia, China, Indonesia and Mongolia were evaluated or accredited by EQAR-registered agencies."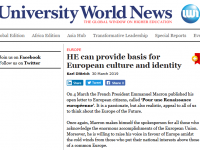 Article in University World News by Karl Dittrich
"HE can provide basis for European culture and identity" - March 2019
Extract from article:
"Supporting student mobility: it goes without saying that the enormous growth in mobility of students is one of the great accomplishments of this European initiative. To support mobility across Europe, to enhance trust in our higher education systems and to make automatic recognition of degrees a reality, we are currently working towards establishing a database of higher education institutions and programmes which have been externally reviewed against the Standards and Guidelines for Quality Assurance in the European Higher Education Area (ESG). The database is an important milestone in achieving our goals and in building a European community of trust and transparency."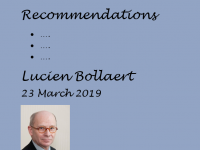 Review of DEQAR by Lucien Bollaert
EURASHE asked Lucien Bollaert to write a review of EQAR's DEQAR project as independent QA expert.
This review is based on the visit of DEQAR's website as developed and accessible in its public preview on 22 and 23 March 2019 and uses as criteria its transparency and the quality of the amount of public information already collected, the accessibility and research features as well as the comparability of its data. The remarks as user are purely personal and not as representative of one of its identified users' categories.
Conclusions (extract from the review):
"… The most added value of DEQAR is that the information is international, trustworthy and complete and that it can be researched at one place by some clicks. The fact that this database is managed and controlled by EQAR, being the only independent Bologna organisation existing, but in close collaboration with all the stakeholders, is an important victory. Hopefully the information will extend to the whole EHEA. The information is easily accessible and the research is user friendly. The information is important for all stakeholders of HE, but will primarily be used for reasons of recognition (ENIC-NARIC), for reasons of information about national EQA systems (QAAs and national authorities), the EQA status of HEIs and/or study programmes (HEIs' strategic partner search and recognition of mobility and students' enrolment and/or mobility choices). While DEQAR holds a lot of information, the information can and will be used less for reasons of comparison."