Foreword
……
Another year has passed and while at the end of 2021, everyone dreamed of and toasted to a post-COVID return to normality, these hopes were soon shattered with the Russian invasion in Ukraine.
These are truly challenging times and we would like to express our profound concern and support for the people of Ukraine. Education and access to objective, verified information are more important than ever. Unfortunately, in the face of continued warfare, it is very difficult to assure the quality and autonomy of higher education. We cannot repeat often enough how essential academic freedom and institutional autonomy are, not only for the academics themselves, but also for students and society in general.
Looking back at 2021, the second year of our "online life", we can conclude that it was a year with many accomplishments but also with its ups and downs. The optimism of the beginning of the year "Our next meeting will surely be in-person!" soon gave way to an "Is this ever going to end?" feeling. Although most people adapted well to the online way of work, technically that is, the prolonged periods of isolation were hard for many and staying motivated was not always self-evident as the year progressed. Still, students got degrees, educators taught and quality assurance agencies continued with their evaluations and accreditations. We think a collective pat on the shoulder is well-deserved for all of those who kept Higher Education turning when large parts of the world came to a standstill.
EQAR continued its core-business of reviewing quality assurance agencies via one hybrid and two online Register Committee meetings, resulting in the mature milestone of 50 quality assurance agencies listed on the Register.
Linking and expanding our database DEQAR was equally high on our priority list through the DEQAR CONNECT project. Some remarkable progress was made in integrating DEQAR, not only at the level of ENIC-NARICs, but also in the form of verifiable credentials, compatibility with the European Digital Credentials for Learning and a connection with European Blockchain Services Infrastructure (EBSI). We were happy to celebrate these accomplishments in the DEQAR CONNECT Conference in December.
Other memorable occasions were the very positive evaluation of EQAR in the External Review Report at the end of the year and the webinar on ESG compliance where experts discussed the findings of the report "Analysis of Register Committee Decisions".
All of this and much more, is faithfully recorded and described in our annual report. We wish you a pleasant and informative reading.
Before signing off, we would like to reflect on the wise and appropriate words of a very remarkable man:
"Knowledge is power. Information is liberating. Education is the premise of progress, in every society, in every family."
– Kofi Annan. (Nobel Peace Prize laureate and former Secretary-General of the United Nations)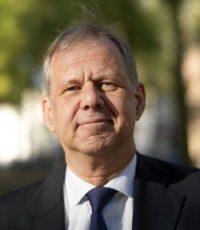 Karl Dittrich (President)